Safeguarding minority rights is part of Pakistan's fundamental ethics: Moazzam Ahmad Khan – Pakistan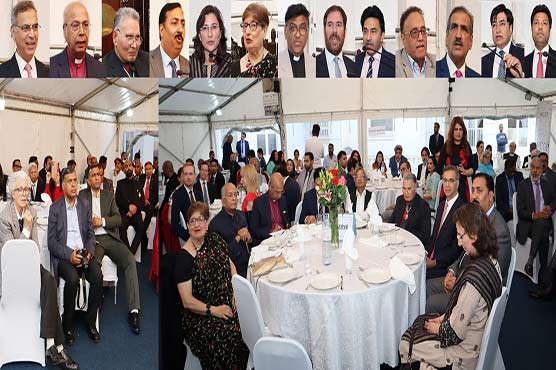 Published on August 13, 2021 11:37
Safeguarding minority rights is part of Pakistan's fundamental ethic: Moazzam Ahmad Khan
LONDON (Azhar Javaid / Dunya News) – To mark "National Minorities Day", a seminar entitled "The Role of Minorities in Nation Building: A Tribute to Pakistani Religious Minorities" was held at the High Commission from Pakistan to London.
The seminar was jointly organized by the High Commission and the World Congress of Overseas Pakistanis (WCOP) to pay tribute to the invaluable contribution of minorities to the progress and development of Pakistan.
Prominent members of Pakistani minority communities based in the UK as well as a large number of people from diverse backgrounds attended the event.
---
---
Dr James Shera MBE and Sitara-e-Pakistan, Dr Amineh Hoti, Bishop Michael Nazir Ali, Sonoo Malkani, Rupert Gold and Chanchal Singh Chaudhary and Councilor Tariq Dar spoke at the seminar.
In his remarks on the occasion, High Commissioner Moazzam Ahmad Khan thanked the minorities of Pakistan for their contribution to nation building efforts. He reaffirmed Pakistan's commitment to inclusion, diversity and improvement of its minorities in accordance with the vision of Quaid-i-Azam Muhammad Ali Jinnah and the Constitution of Pakistan. He said that Pakistan was created by a minority in the quest to safeguard the rights of minorities; therefore, minority rights were part of Pakistan's core ethics.
The High Commissioner also briefed the participants on measures taken by Pakistan to ensure interfaith harmony throughout the country, including the opening of the Kartarpur Corridor. He called on Pakistan's minorities to stand firm in their commitment to their home country and heritage.
---
---
Speakers praised the role of minorities in the creation of Pakistan and its subsequent progress and developments. They underlined the need for diversity and inclusion for the socio-economic development of the country. The speakers also appreciated the efforts of the Pakistani government to promote the rights and well-being of minority communities and stressed that these efforts must continue.
WCOP President Dr Suhail Chughtai welcomed guests while WCOP Co-Founder Syed Qamar Raza expressed his thanks at the end. Dr Arif Anis Malik and Reverend Rana Youab Khan moderated the event. Two brothers called Leo Twins presented a national song and received applause from the audience.